If you are a customer with a product-related inquiry, please contact us at www.toro.com/en/customer-support/contact. If you are a member of the media, please contact the appropriate individual shown below:
Toro Launches New Equipment for Landscape Contractors at Equip Expo 2022
New Revolution Series Handheld Tools, new SprayMaster® models, new Z Master® 2000 and 2000 Revolution, new Grandstand® HDX and increased Horizon360® features introduced
BLOOMINGTON, Minn. — Toro is introducing several new pieces of durable and innovative outdoor power equipment to meet the rugged demands of landscape contractors at Equip Expo 2022 in Louisville, Kentucky.
"We're excited to introduce an impressive lineup of battery- and gas-powered tools that will immediately improve productivity for professional landscape contractors," said Chris Vogtman, director of marketing at Toro. "Our Revolution series of handheld tools increase our battery offerings and integrate with our powerful Flex-Force Power System®, while our new Z Master® 2000 in both gas and battery options offers an impressive, high-quality cut. Operators can also now get additional horsepower with the new Grandstand® HDX, a high-powered version of our popular stand-on commercial mower. Best of all, the new equipment comes Horizon360® capable, which is a real advantage for creating business efficiencies and managing fleets."
New 60V Max Revolution Series Handheld Tools
Designed with input from professional landscape contractors, the new 60V Max Revolution Series Handheld tools were built to perform in demanding work conditions and environments all day long. Powered by Toro's Flex-Force Power System®, the new line includes a dual-battery backpack that can hold two 10 Ah batteries — which is designed for comfort and available as a power source for the leaf blower or string and hedge trimmers to keep jobs moving all day.
Operators can easily swap batteries out, so when one battery is done, the workday doesn't have to be. Outpacing the charging speed of larger, lower voltage batteries, the 60V power comes to you fast — taking just 50 minutes to fully charge our largest battery in the all-new six-pod rapid charger. Plus, the batteries are versatile, powering both Revolution Series handheld tools and the Toro 60V Max 21" Heavy Duty mower.
No matter what the challenge, the Toro integrated 60V battery platform ensures professionals always have a Revolution tool ready. That level of accessibility is an industry first, as many leading competitors are incompatible with tools that require their backpack.
New SprayMaster®
Toro's new stand-on spreader sprayers makes treating turf a whole lot easier. The SprayMaster is the industry's most innovative product of its kind, featuring enhanced center of gravity tanks for less turf tear, an industry-first flip up hopper for ease of maintenance and materials management, and larger wheels for a more comfortable ride. Exclusive patented caster lock remains for straight-line tracking and precision spreading and spraying.
The new SprayMaster 60, SprayMaster 40 and SprayMaster 20 models feature smart enhancements for increased comfort and usability and decreased maintenance. Improved stability and balance translate to better chemical application at higher machine speed, while larger 24-inch tires on the 60 and 40 models, and 22-inch tires on the SprayMaster 20 model mean a smoother ride and better visibility.
Toro relied on professional contractor feedback to inform enhancements to the line, which resulted in small adjustments that will offer big returns when it comes to ease of use and maintenance on the new models.
New Z Master® 2000
With a rugged frame and deck modeled after the award-winning Z Master 4000, the new Z Master 2000 has a commanding spirit and the will to cut for years to come. Just like its impressive heritage, this machine delivers high-quality performance and has bullish attitude built into its DNA.
Its beefy TURBO FORCE® deck looks and acts tough — the new Z Master 2000 will cut through the toughest elements Mother Nature can throw at it. The TURBO FORCE deck is a 50 KSI 7-gauge high-strength steel deck, complemented with an extra-strength tubular chassis and durably rugged I-beam front-end. Add on Toro's patented MyRIDE® suspension system for go-all-day comfort, and you know this mower is built for the pros.
Never go without the tools you need as the new 2000 features several attachments to carry a multitude of tools and accessories on the go. And if that's not enough utility, easily increase your carrying capacity with the new two-inch hitch receiver. Designed for professionals who want to make the new mower their own, there are several options to accessorize the new Z Master 2000.
New Z Master® 2000 Revolution
When Toro introduced its Z Master 4000 Revolution zero-turn mower in 2021, the industry took notice. Now, professional landscape contractors looking for more heavy-duty, customizable battery-power mowing options can turn to the new Z Master 2000 Revolution zero-turn mower. With a sharp look and increased battery pack versatility, operators can customize the power of the new 2000 Revolution based on mowing conditions.
The Z Master 2000 Revolution is built on Toro's commercial-grade Z Master 2000 Series frame and legendary TURBO FORCE® deck. The newest member of the Toro Z Master Revolution family offers robust battery-powered go-all-day comfort with Toro's patented MyRIDE® suspension system. The suspended operator platform and easy to adjust, personalized ride settings maximize comfort, and every Revolution machine is equipped with patent-pending software in the controls that enables smooth operation.
The Revolution Series mowers are powered by Toro's HyperCell Power System™, which was specifically designed with the same innovative spirit Toro has applied for more than a century to its equipment and delivers all-day power and reliability. The Battery Management System (BMS) allows for impressive run times and quick charging to maximize productivity. HyperCell is built to run cooler than other power systems, so it can last as long as the sunlight. Ultimately, operators gain efficiencies, eliminate engine exhaust emissions, and can complete more jobs with less hassle.
GrandStand® HDX
Designed for high performance and professional lawncare pros, the new Toro GrandStand HDX offers the same ride you've come to trust with its space-saving, flip-up platform — now with more power from the massive 31 hp Kawasaki or 37hp Vanguard® engine.
Increased efficiency is at your fingertips with ground speeds up to 12 mph and 52-inch, 60-inch, and 72-inch deck options. Not only do these machines have the horsepower to bull through tough conditions, they also have the size and durability to ensure operator comfort day in and day out.
Pros who choose the Vanguard engine will benefit from the Electronic Throttle Control (ETC) and Vanguard Oil Guard™ System — a revolutionary innovation that extends the life of the oil and better protects the engine. Featuring a remarkable 500-hour oil change interval and up to 60 percent savings on maintenance costs, the Oil Guard System drastically increases efficiency and costs-savings.
Built on the contractor-proven TURBO FORCE 2 cutting deck, operators can adjust the deck baffle on the new GrandStand HDX to get the most pristine cut even in rough conditions. It also features enhanced dual-capture anti-scalp roller supports to ensure the highest quality of cut in the harshest terrain. Discharge and disperse clippings with the industry's highest IQ system — the rubber discharge chute clears obstacles, while debris dispersion is second to none.
Rough bumps and challenging terrain are all in a day's work. Feeling them shouldn't have to be. The Toro GrandStand HDX combines the speed and comfort of a zero-turn rider with the on-and-off ease of a wide area walk-behind — for a fast and maneuverable experience.
Horizon360®
The best thing about the new Toro mowers is that they all come Horizon360 capable. Toro's business software for landscape contractors drives more profits and increases business efficiency and effectiveness. New features recently introduced to the business software suite help drive more profits for professional landscape contractors. A customer relationship management tool allows contractors to automate client communications, while a new online payment feature makes invoicing a breeze.
New this year is free-to-use Horizon360 Connect that seamlessly connects to the Revolution Series of zero turn products to allow for equipment tracking and enhanced fleet and maintenance management.
This powerful all-in-one software suite allows landscape contractors to track the productivity of their crews and equipment more effectively, automate their billing process, and enhance the time management of their businesses. Horizon360 also offers proof of service, job notes and office notes, real-time equipment tracking and a bi-lingual phone app for managing scheduling, weather events and multiple crews.
For more information about these exciting new equipment offerings from Toro, please visit toro.com.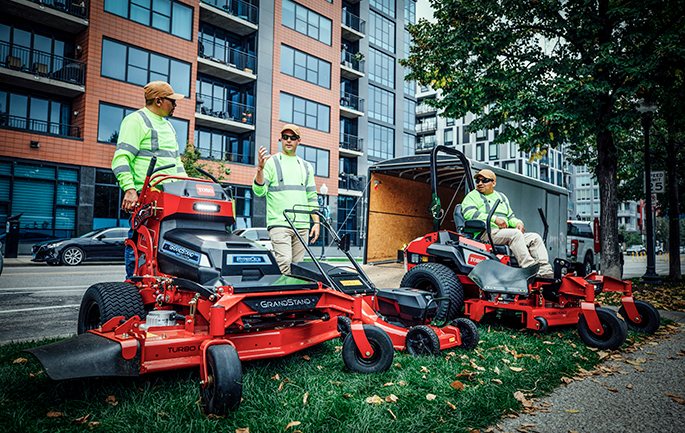 About Toro
With roots dating back to 1914, Toro is a leading worldwide provider of innovative solutions for the outdoor environment including turf and landscape maintenance, snow management, rental and construction equipment, and irrigation solutions. Through a strong network of distributors, dealers, retailers and rental stores in more than 125 countries, Toro helps customers care for golf courses, sports fields, public green spaces, commercial and residential properties, construction sites and agricultural operations. More at:
www.toro.com
.