If you are a customer with a product-related inquiry, please contact us at www.toro.com/en/customer-support/contact. If you are a member of the media, please contact the appropriate individual shown below:
Toro Introduces New Riding Trencher Cab Option
Integrated cab assembly provides operator benefits focused on comfort and productivity
BLOOMINGTON, Minn. – Toro introduces an optional cab assembly specifically engineered to be factory installed on the Toro® RT1200 riding trencher. The cab assembly provides a number of features focused on accessibility, safety and operator comfort.
In terms of accessibility, the cab features doors on both sides of the trencher for simple entry and exit to and from the operator's station, regardless of jobsite obstacles or challenging terrain. Various safety features have been incorporated into the cab assembly including front and rear windshield wipers for maximum visibility in less-than-ideal conditions, and a pressurized cab which virtually eliminates dust and debris from entering the operator's station. The pressurized cab also reduces noise from outside the cab, to help minimize operator fatigue.
When it comes to ergonomics, the new cab assembly for the RT1200 has incorporated key features to keep the operator comfortable and productive. For example, heat and air conditioning are integrated into the cab design to allow use of the machine in both extreme heat and cold. Additionally, for operation on pleasant days, the operator has the ability to open both the rear window, and lock the cab doors open with an extended door latch, providing optimum ventilation in the cab.
"Adding a cab option for the popular RT1200 riding trencher essentially allows operators to get more year-round usage out of their equipment by providing a safe and comfortable space in which the operator can perform trenching operations," said Kyle Cartwright, associate marketing manager at Toro. "Ensuring the cab was easily accessible, safe and comfortable were key drivers in the development of the new RT1200 cab assembly."
The Toro model number for the cab assembly is 25208, and will be available in early 2018. For more information about the new riding trencher cab, or other Toro products, please visit toro.com.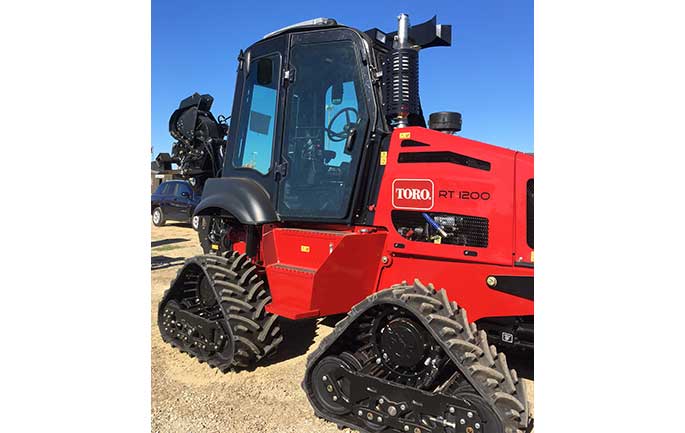 About The Toro Company
The Toro Company (NYSE: TTC) is a leading worldwide provider of innovative solutions for the outdoor environment including turf, snow and ground engaging equipment, and irrigation and outdoor lighting solutions. With sales of $2.4 billion in fiscal 2016, Toro's global presence extends to more than 90 countries. Through constant innovation and caring relationships built on trust and integrity, Toro and its family of brands have built a legacy of excellence by helping customers care for golf courses, landscapes, sports fields, public green spaces, commercial and residential properties and agricultural fields. For more information, visit
www.toro.com
.